We've had a good strong wet season this year, resulting in another wildflower superbloom. Over spring break we went to southern California to chase the flowers and, while we were at it, visit some places that I'd never been to. Our first stops were at familiar stomping grounds that we'd visited in 2017: Shell Creek Road, Carrizo Plain, and Antelope Valley. There were significantly more people at all of these places, compared to two years ago. Many of the well known sites for wildflowers have become very popular lately, and we tried to avoid the most crowded areas.
Location 1: Shell Creek Road
Just because I love the California oaks, here's one that is well festooned with lace lichen (Ramalina menziesii) and moss:
The sky was hazy that day, making for less than ideal picture-taking conditions. The wind certainly didn't help, as the flowers were moving constantly. This early in the bloom the predominant color was yellow: a soft, buttery yellow due to the tidy tips and a much more brilliant, retina-searing gold due to the goldfields.
There was some relief from all the yellow, in patches of baby blue eyes.
Location 2: Carrizo Plain and Temblor Hills
Soda Lake Road, which runs through Carrizo Plain, was quite crowded. We stopped at the vista point and then headed off the beaten track onto some less-traveled dirt roads.
Still hazy, see?
There was such glorious scenery all around!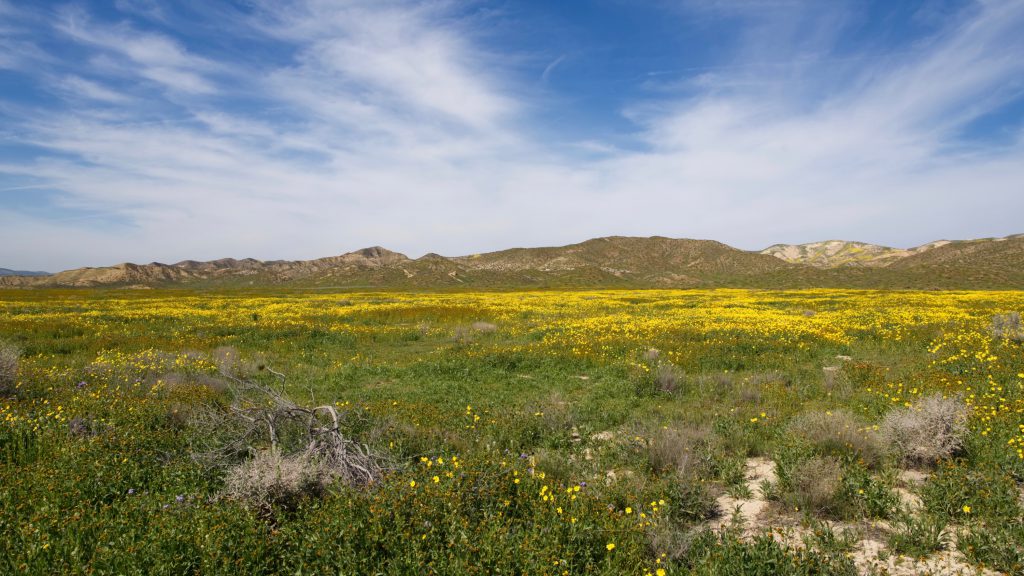 To the northeast of Carrizo Plain lie the Temblor Range hills, on which the bloom was just beginning. We saw fiddlenecks and goldfields at lower elevations, and splotches of purple Phacelia and orange poppies higher on the hills.
Poppies weren't going very strongly yet, but were distinguishable as a faint orange wash on the hills:
We'd see plenty of poppies the next day!
Location 3: Antelope Valley
Antelope Valley was overrun with people, climbing up hillsides with their dogs and selfie sticks. Seems that selfies of people sitting in poppy fields is all the rage these days. We didn't bother even trying to get into the poppy preserve, as there were lots of flowers to be seen in the surrounding areas.
Compared to what we saw at Antelope Valley in 2017, this year's bloom was different. This year the poppies were not as widely scattered as in 2017, but where they occurred they were extremely dense. Then again, this year we were early in the bloom, and by now it could be different.
Next up: Anza-Borrego!