Since my earlier posts on Pisaster wasting disease in the lab, I've been contacted by a couple of divers who have seen afflicted stars on their dives in Monterey Bay. They have both graciously given me permission to post their photos, which clearly demonstrate that Pisaster and other stars are being stricken subtidally as well as intertidally and in the lab.
This set of photos is from Ralph Wolf, taken on 11 October 2013 off of Pacific Grove, California.
This star, a Pisaster giganteus, looks healthy.  It has no dermal lesions, the body is plump and full, and the arms are lying flat and fully attached to the rock.
This P. giganteus, on the other hand, is doing the twisty arm thing that I saw in the lab. It seems to be the precursor to the star ripping its arms off. There's an orange Patiria miniata lurking in the background, just waiting for a chance to begin feasting on a not-quite-dead-yet sick star.
Here are some more extreme examples of the twisty arm thing in P. giganteus that have already resulted in at least one arm being autotomized.
And it wasn't just a few isolated Pisaster stars that were showing early signs of the disease. Here are three of them on the same rock, all twisting their arms to some degree.
Pisaster stars were not the only ones that Ralph saw stricken with the disease.  The sunflower stars, Pycnopodia helianthoides, were in even worse shape. This star has contorted itself into an almost recognizable shape and lost at least a few arms, one of which is visible at the top of the photo.
And take a look at this poor star. All that remains is the central disc and a single arm. Given that Pycnopodia normally has 20-25 arms, this animal has suffered a huge loss:
And, of course, there were Pycnopodia arms crawling around by themselves. They literally don't know they're dead.
Ralph was able to find and photograph some apparently healthy small Pycnopodia stars.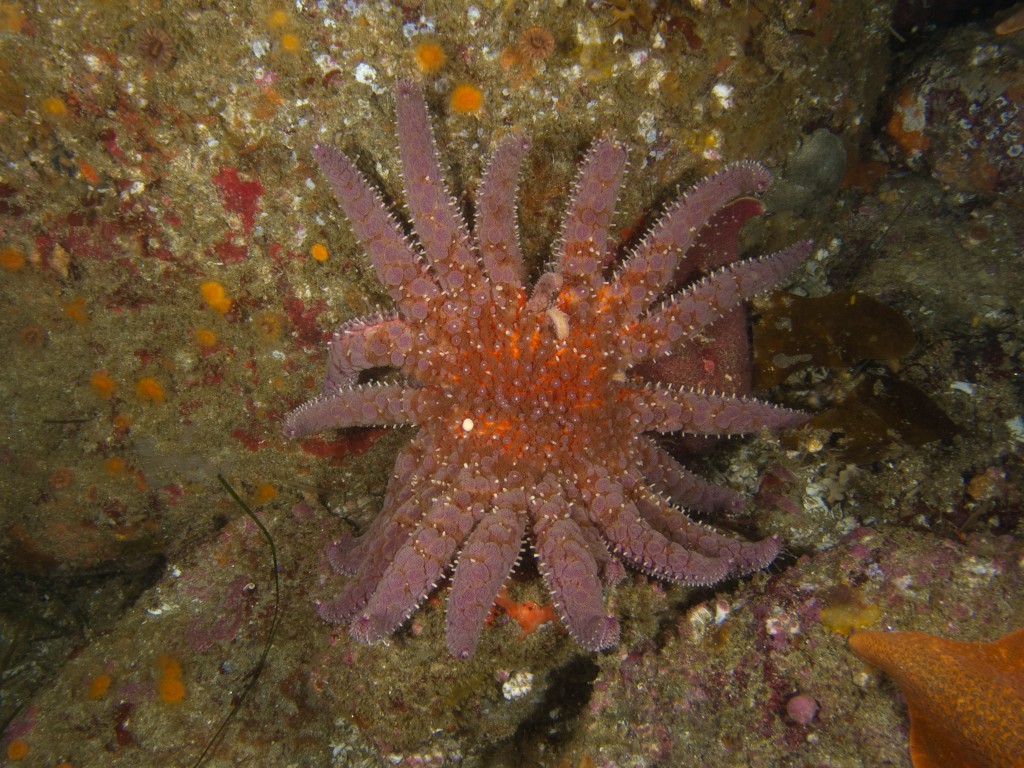 The rainbow star, Orthasterias koehleri, was also getting in on the action. These are beautiful stars in bright reds and oranges:
But Orthasterias is also twisting and autotomizing arms:
So, for now the disease continues to exact its toll. At least this time it appears that Patiria miniata (bat stars) and Dermasterias imbricata (leather stars) are not being sickened, although we have had outbreaks of a very similar disease in the lab that affected these species. And the fact that sick stars are being seen in the field, both intertidally and subtidally, means that the disease I documented in the lab is not strictly a captivity-related phenomenon. I think what we are witnessing is regional–the first report I read about was in British Columbia–rather than local. Only time will tell.