I don't remember what I expected from my first view of Death Valley. I knew it to contain the lowest elevation (Badwater Basin, 282 feet below sea level) in North America and that it was really hot in the summer, but beyond that I had no clue. [Aside: the marine biologist in me wondered which metric 'sea level' refers to, and decided that it was probably mean low low water] I certainly wasn't prepared for the spectacular geology, although in retrospect I shouldn't have been so surprised. We didn't see much in the way of wildflowers, for one reason that I didn't anticipate but which makes perfect sense: although Death Valley received enough winter rain to form a temporary lake in the valley, there hadn't been enough rain in the autumn to trigger a superbloom. That was fine by me, as I'd already seen many wildflowers on the trip and was happy to be fascinated by the geology.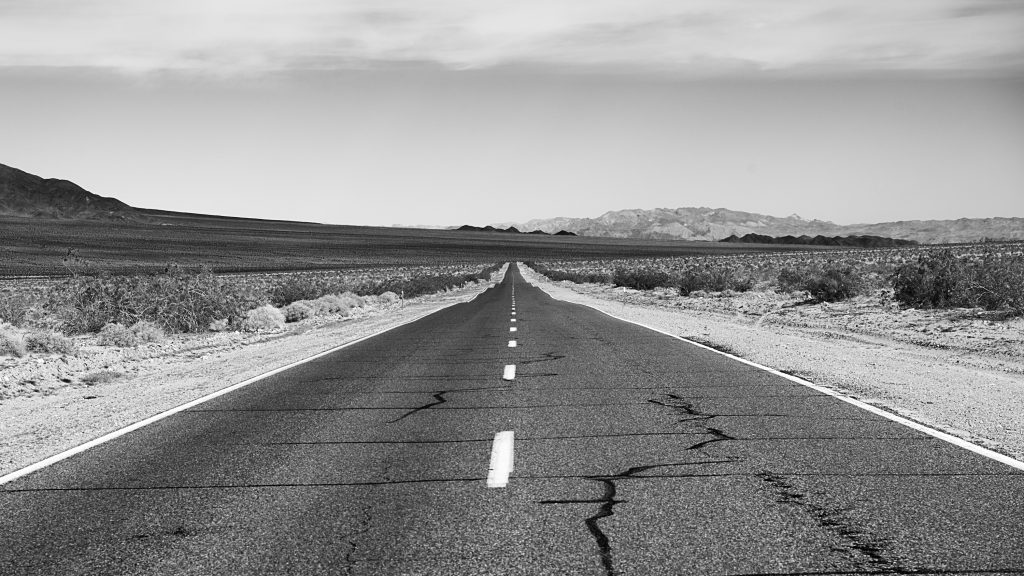 There are at least two small waterways in Death Valley National Park that are called Salt Creek. The first one we encountered was in the hills above the valley, and is a rare desert riparian area.
This Salt Creek is fed by several small natural springs and runoff from the scant winter rains. As you can imagine, this oasis is a vital necessity for wildlife. Animals as large as desert bighorn sheep and as small as quail depend on this water source, which may contain the only somewhat reliable drinking water for 15 square miles.
As I mentioned, for me, Death Valley ended up being all about geology. I knew the valley floor was where we would find the lowest elevation in North America: Badwater Basin, 282 feet (86 m) below sea level. And now I can say that I've seen it, but there isn't much to see except the line of other tourists hiking out across the salt flats to take photos of the sign. So as a must-see destination, Badwater was interesting but not compelling. We skipped it.
But the rocks! The hills surrounding the valley, especially those on the eastern side, are spectacular. My favorite area was a range of hills called Artists Palette, viewable from a gorgeous 1-way loop drive off of Highway 190. When I saw the name on the map I thought it must be a place either a location where painters found minerals they could use to make paint, or a scene they liked to paint. Fortunately we decided to take the detour that meanders through the formations, so we could get off the main road and just gawk. I had never seen anything like this scenery. I know enough geology to understand that minerals come in all sorts of colors, but had not seen them together like this in a natural state. My eye is always drawn to colors, and I couldn't stop goggling at the variety of umbers, ochres, greens, and pinks, all jumbled together like some giant's ice cream sundae.
It's impossible to capture the grandeur of this landscape in a photograph. You really have to see Artists Palette in person to appreciate the vibrant colors of these hills. If you ever go to Death Valley , take the time to drive this little loop. You won't regret it!
Across the valley to the west, are the Panamint mountains. Beyond them, the Owens Valley and the mighty Sierra Nevada!
So those are the rocks. The fish were in the second Salt Creek that we encountered, about 20 miles north of the Artists Drive loop. This Salt Creek is one of the remnant small bodies of water left after Lake Manly dries up. Lake Manly is a temporary lake that occasionally forms in Badwater Basin after unusual heavy rains. Most of the time, though, Badwater Basin is dry except for some small creeks. Salt Creek generally flows from north to south down the valley and eventually disappears into the sand.
Salt Creek is inhabited by a little pupfish, Cyprinidon salinus salinus, that looks like and is about the size of a guppy. Well, maybe it's a little bigger than a guppy. Populations of pupfish inhabit several creeks scattered over the desert across California and Nevada. Over time they have evolved into 10 genetically distinct species and subspecies, each adapted to the nuances of its particular stream. Two of the 10 have gone extinct in historic times. The Salt Creek pupfish, C. salinus salinus, is endangered, due to the ephemeral nature and fragility of its environment.
They are called 'pupfish' because they appear to be playing like puppies. Plus, they are very cute. But life as a fish in one of the driest places on the planet is a tough gig. Pupfish live short, intense lives, growing to adulthood and breeding in the span of a single year.
Salt Creek pupfish (Cyprinidon salinus salinus) in Death Valley
As you can see, the creek is hardly deep enough for these little fish to swim. Pupfish exhibit the sexual dimorphism common in fishes–females are rather drab and nondescript, while males are more colorful. The behavior that was described as playful, earning the fish the moniker 'pupfish', is really all about the business of living. Males are territorial, defending a spot against other males. When a female chooses to spawn with a male, she enters his territory. Then the two of them perform a short, wiggling dance, and spawn together.
From the perspective of an evolutionary biologist, the isolated pupfish populations are fascinating. Each waterway inhabited by pupfish is an independent 'island' in a very real sense of the word. The fish cannot migrate between streams, and thus populations evolve independently of each other. This is called allopatric speciation, from the Greek roots 'allo-' meaning 'other' and '-patry' meaning 'country'. Over time, each population becomes reproductively isolated from the others, so that even if Manly Lake were to become once again a permanent body of water, the fish from different streams would be unable to mate with each other.
Of all the things that manage to eke out a living in what is arguably one of the most inhospitable places in the world, these little fish are my favorite. Major props to them, for surviving where they do and making it look like fun!