We have all heard about hummingbirds and their ability to hover and fly backwards. These tiny feathered jewels are a delight to observe. They are birds of the New World, and I feel sorry for people living in parts of the world that don't have hummingbirds. Where I live, on the coast of Northern California, the resident hummers are Anna's hummingbirds (Calypte anna). We get the occasional Rufous and Allen's hummers (Selasphorus rufus and S. sasin, respectively) passing through on their migrations, but the Anna's are here year-round. We have front-row seats to watch their mating displays, and I know they must be nesting nearby even though I've never managed to locate a nest.
The other day, while sheltering in place at home, I went outside to photograph birds. The Anna's hummers were putting on quite a show. The males have been displaying since February, flying straight up-up-up and then plunging into a J-shaped dive near an observant female. At the bottom of the dive the male uses his tail feathers to create a sharp and very loud chirp. When this occurs about a meter from your head, it sounds like a pistol shot. Trust me on this.
Anyhow, that day I was lucky and captured some shots of a male Anna's hummingbird hovering in place. These aren't National Geographic quality photos, but then again I'm not a National Geographic-caliber photographer. For anyone who is interested in such details, here are the EXIF data:
Nikon D750
300mm f/4 lens
1/2500 sec at f/4
ISO 900
At a shutter speed of 1/2500 sec, you can freeze even the movement of a hummingbird's wings. You can see very clearly that although the bird's wings are moving, his head remains perfectly skill and his position doesn't change at all.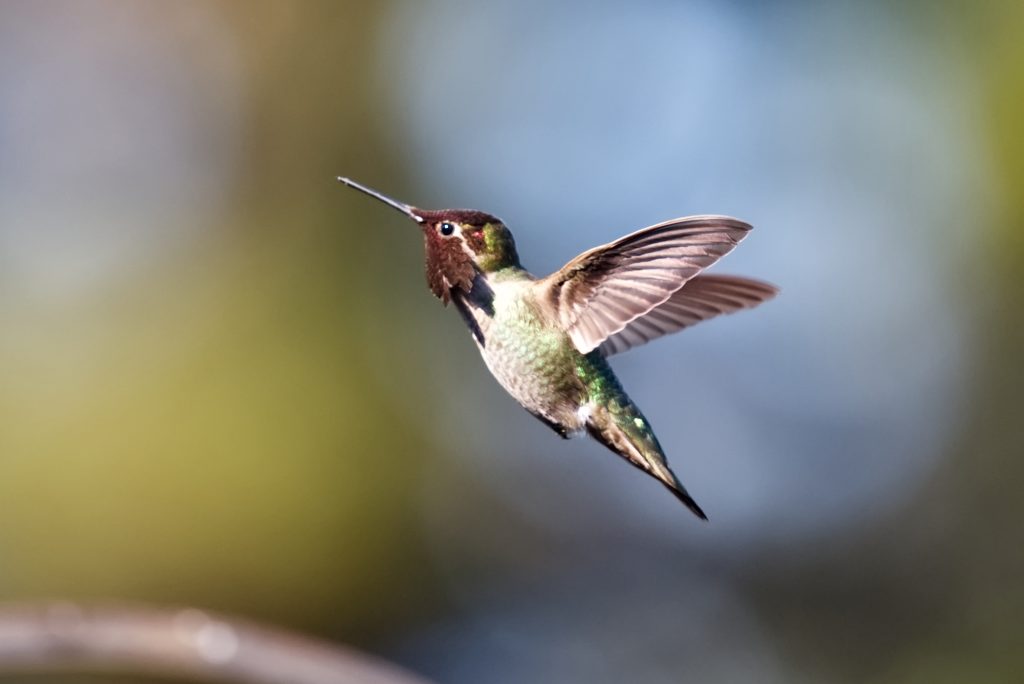 A hovering hummingbird moves its wings in a figure-8, similar to the sculling motion of a skilled rower. If you use your imagination a bit you can see the rotation of the wings in this set of photos.
Given the mandate to shelter in place at home, I don't know how many of the upcoming morning low tides I'll be able to explore. On the one hand, I'd be by myself, not risking exposing anyone to any germs I might be carrying. On the other hand, staying home means, well, staying home. The tidepools are calling to me, but this year I might not be allowed to accept the invitation. All for the greater good, right?